What once was a hopeful question in the cannabis sector that buoyed North American pot stocks is now a pessimistic conundrum and the Number 1 reason marijuana stocks continue to struggle.
And that question is: When will the US federally legalize marijuana?
That is the single most important challenge the burgeoning legal cannabis sector faces. And it's a challenge, Tilray CEO Irwin Simon says, that's keeping the sector's publicly traded companies from expanding. It is this hurdle, he notes, keeping institutional investors from buying pot stocks.
In a recent interview with CNBC, Irwin outlined that stock in companies like Tilray (NASDAQ:) (TSX:) are being floated solely by retail investors. Once marijuana growers and retailers gain access to investment from large institutions—when legislation like the pending Secure and Fair Enforcement Banking Act in the US, often referred to as the SAFE Banking Act, is approved—cannabis companies will be able to more easily generate cash to expand their acquisition strategies and relieve themselves of burdensome debt.
Earlier this month, the US Congress passed the Marijuana Opportunity Reinvestment and Expungement Act, also referred to as the MORE Act, for a second time. This legislation would reclassify cannabis under the Controlled Substances Act, essentially making it a legal drug, and trigger a list of criminal reforms to legalize the drug's use. But there is no timetable as to when it would be approved by the Senate.
Also earlier this month, Tilray released its . The company posted revenues for the three-month period of $151.9 million, missing estimates of $156.2 million.
But there were a few positive highlights. Cannabis sales hit $55 million and distribution revenue, which is driven primarily by its medical cannabis and pharmaceutical activities in Europe, hit $62.5 million, or 41% of sales, Tilray's largest segment of retail sales.
Reports claim Tilray is focusing more on its growing medical cannabis markets in Europe. In its earnings report, the company said international cannabis revenue was "up over 4,000% from the prior year quarter."
Tilray stock rallied briefly after the company released its earnings report. But the gains were soon flattened. Tilray stock closed last week on the NASDAQ at $5.24, well below its 2021 high of about $24 hit in January of 2021, but above its 2020 low of about $4.80.
Consensus estimates of 18 analysts polled by Investing.com have a 12-month average price target of $8.64, which represents a 64.9% increase from last week's close.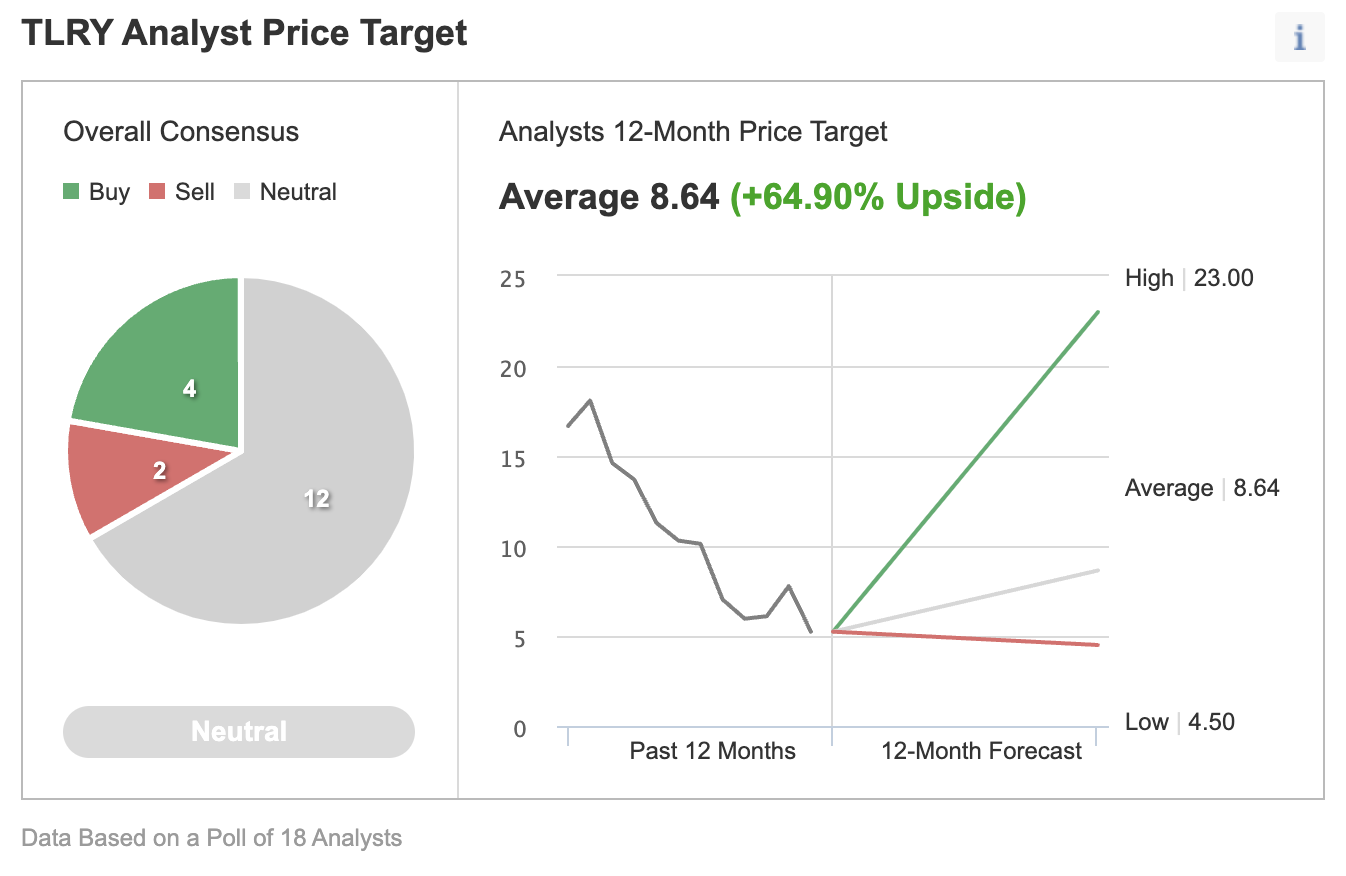 Consensus estimates of 18 analysts polled by Investing.com.
Chart: Investing.com
Tilray stock was up 1.15% on the NASDAQ yesterday, closing at $5.30.